Nationwide casting call for NBC game show 'THE WALL' – first open call will be in Virginia!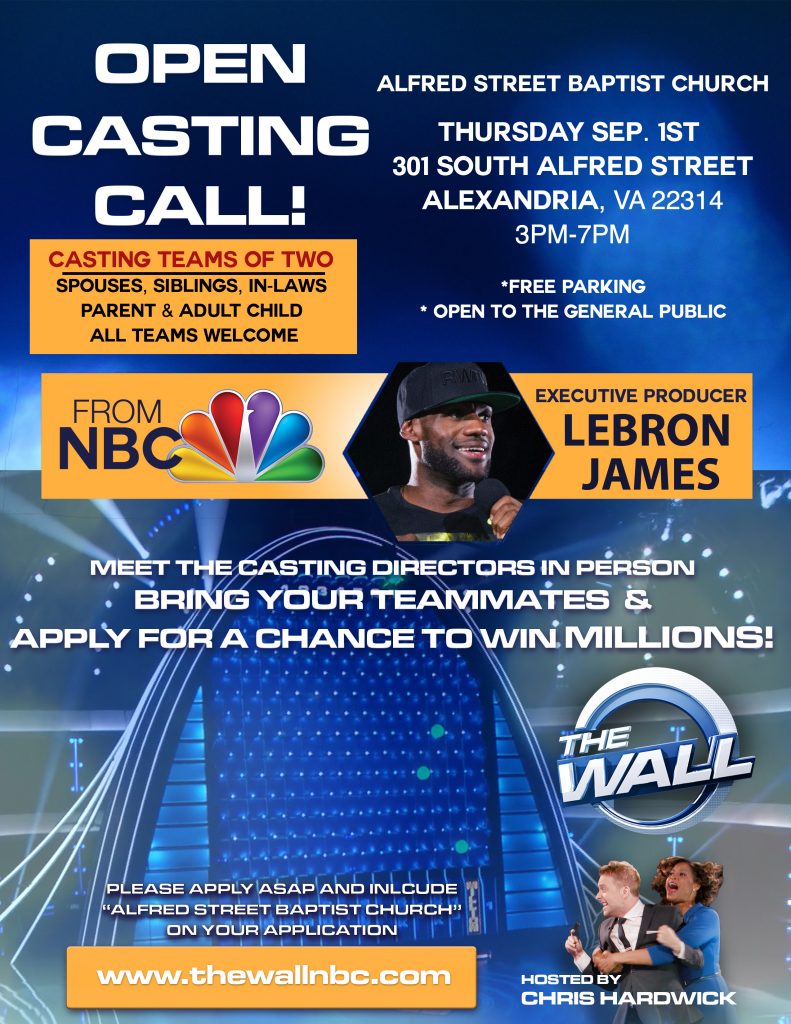 MORE INFORMATION ABOUT "THE WALL" ON NBC
THE WALL: Hosted by Chris Hardwick (Talking Dead, Singled Out, @midnight) and executive produced by LeBron James, Springhill Entertainment and Glassman Media.
ABOUT: On each episode, one deserving two-person team (spouses, siblings, in-laws, etc.) plays for a chance to win a "life-changing amount of cash" that will be won or lost based on trivia – and the bounce of a ball.  As LeBron James says in The Hollywood Reporter, "It's got everything – excitement, drama and action – and it's something the entire family can watch and root for together."
TWO-PERSON TEAMS:  To apply, everyone will need a teammate.  Casting directors are looking for people who are energetic, super optimistic, really nice people who deserve this chance to win millions. Each game is played with one TWO-PERSON team. Teammates should be familial (SPOUSES, SIBLINGS, IN-LAWS, PARENT/ADULT CHILD) or extremely close (example: two best friends who run a business together, two soldiers who were in the military together, two best friends who were maid-of-honors at each others weddings, etc.). 
WHAT THE CASTING DIRECTORS WILL WANT TO KNOW:  Your name, occupation and what your relationship is to your teammate.  We'd love to hear something about yourself or your teammate that makes you both deserving of winning millions. You don't have to be a super hero, just share a simple example of how you or your team mate may have helped someone (Examples: make meals for your elderly neighbor, participated in a church program that does yard work/clean up for neighbors in need, returned someone's lost wedding ring/purse/wallet, just gave your bike to a neighbor kid who you also tutor, etc.)
APPLY NOW:  For anyone interested in being a part of the show, we strongly recommend they sign up as soon as possible.
***Please include Eastern Star Church – Indianapolis, IN on your application. 
LINKS TO ARTICLES ABOUT THE WALL: