Support VA-filmed IMPERIUM at the Byrd Theater for a one-week exclusive engagement!
*Please see details to review the film as well!
Byrd Theatre 2908 W Cary Street Richmond VA 23221-3515
You can watch the trailer here:  https://www.youtube.com/watch?v=zlhg2lRj-a4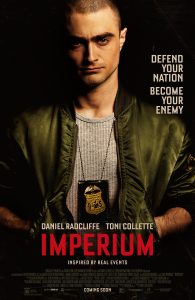 Positive reviews  are crucial to the film's success, PLEASE take a few minutes and review on IMDB and Rotten Tomatoes.

Unfortunately, the white supremacist community has already left thousands of negative comments, which you can see on IMDB and YouTube.  They are a small but vocal group, and are determined to hurt the rating of the movie.  It is a lot to ask, but the VFO wants to ensure that their efforts of a few do not prevent the film from reaching a wider audience.
SYNOPSIS:
Nate Foster (Daniel Radcliffe), a young, idealistic FBI agent, goes undercover to take down a radical right-wing terrorist group. The bright up-and-coming analyst must confront the challenge of sticking to a new identity while maintaining his real principles as he navigates the dangerous underworld of white supremacy. Inspired by real events, IMPERIUM stars Daniel Radcliffe, Toni Collette, Tracy Letts, with Nestor Carbonell, Burn Gorman and Sam Trammell and will be released by Lionsgate Premiere in theaters and On Demand August 19.
Rating:    Rated R for language throughout.
Run Time:  108 minutes
Cast:    Daniel Radcliffe, Toni Collette, Tracy Letts, Seth Numrich, Pawel Szajda, Devin Druid, Chris Sullivan, with Nestor Carbonell, Burn Gorman and Sam Trammell
Directed by: Daniel Ragussis
Screenplay by: Daniel Ragussis
Story by: Michael German
Produced by: Ty Walker, Simon Taufique, Dennis Lee, Daniel Ragussis