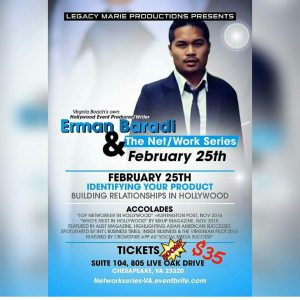 The Net/Work Series 2017
Chesapeake, VA, February 16, 2017– Legacy Marie Productions (LMP) is proud to collaborate with Virginia Beach's own Erman Baradi, who was named "Top Networker in Hollywood" by The Huffington Post, for a one-of-a-kind event on networking in the entertainment industry. This event will show you how to utilize affordable or free tools to establish your entertainment brand, and make invaluable connections in Hollywood! In a time when fame can be achieved with a simple video upload, this class can, and will, help you elevate your own career in the 21st century.
Regent University film graduate, Erman Baradi, went from intern to co-founder of one of Hollywood's fastest rising event series, MixKnowledgy (formerly The Rel/event), and was recently signed to a boutique literary management company in Los Angeles, all the while residing in Virginia. In 2017, Erman pays it forward to his fellow Virginians with a series of seminars on his personal journey, delivering tips on breaking into the industry on using the resources at your disposal. Session will end with a Skype call Q&A with a Hollywood pro (TBA). Only 40 seats available.
This event will be held at Crewestone Technologies Suite, 104, in Chesapeake, VA, on February 24, 2017 12pm-3pm. Doors open at 11:30 am. Buy your tickets today at www.networkseries-VA.eventbrite.com and use LMP's code: MANDYLAND, for $10 off tickets.
Legacy Marie Productions is a full-service production house that develops content for film, television, artists, and commercial content for businesses; and prides itself in hosting workshops and film screenings in the Hampton Roads area.