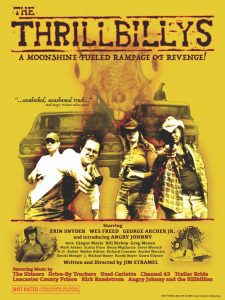 Join RVA Director Jim Stramel for a screening of his first feature film , The Thrillbillys , starring local artist / musician / singer Wes Freed.
Featuring a soundtrack by Drive-By Truckers, Angry Johnny and more.
Screened on 16 mm , with door prizes , vintage country music trailers and a cash bar .
Saturday , January 21st 7:30PM at the Visual Arts Center of Richmond.
​1812 West Main Street, Richmond VA
​Tickets $5 at the door .

​Don't forget the 24th Annual James River Film Festival April 6th – 9th with director Guy Maddin.
For more information on the 24th annual James River Film Festival go to: http://www.jamesriverfilm.org/programs/james-river-film-festival-2/)