Start Exploring Virginia
Where Will You Tell Your Story?
Here are the Virginia sweet spots that we think will get your reels turning. Scout the regions on the map to find out more about their unique features...or feel free to explore on your own via the search.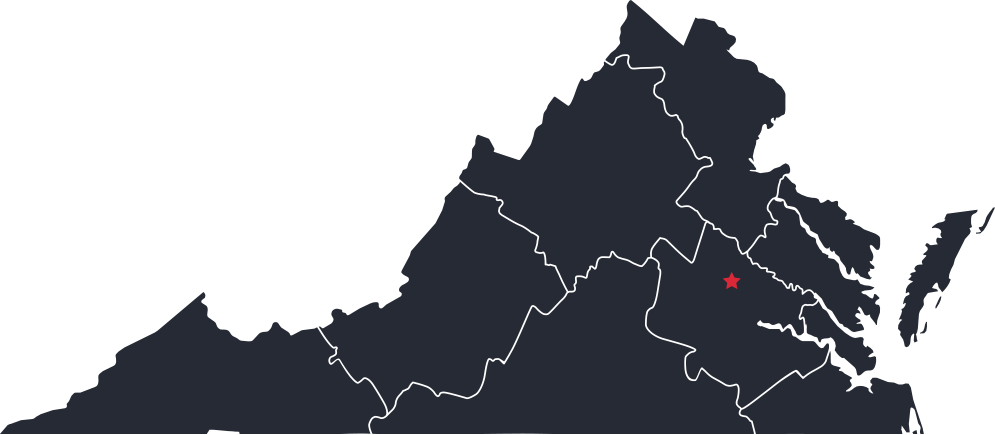 South West
What exists between Tennessee, Kentucky, North Carolina and West Virginia?…stunning Appalachia, the Blue Ridge Mountains and film hospitality like you've never seen.
Browse Reel Scout
Coastal Virginia
More than just beaches, this region has a wealth of history and varying landscapes. Heard of Williamsburg or Jamestown?…yep, we've got them. Beyond colonial time travel, Coastal Virginia also has brackish bays, spooky swamp land, and rural areas that contrast immensely developed cities. Hampton Roads has an incredible film infrastructure that is ready to host your project. Doubles as Miami in Virginia Beach or Brookyln in historic Downtown Norfolk.
Browse Reel Scout
Airports
Norfolk International Airport
2200 Nervier Ave.
Norfolk, VA 23518
Phone: (757) 857-3351
Hampton Roads Executive Airport  
Address: 5172 W Military Hwy,
Chesapeake, VA 23321
Phone: (757) 465-0260
Newport News/Williamsburg International Airport
Address: 900 Bland Blvd,
Newport News, VA 23602
Phone:(757) 877-0221
Chesapeake Regional Airport  
Address: 2800 Airport Dr,
Chesapeake, VA 23323
Phone:(757) 432-8110
Liaisons
CITY OF CHESAPEAKE
Josh Fisher
City Events Manager
757.382.1312
Email: jdfisher@cityofchesapeake.net
Website: http://www.cityofchesapeake.net
CITY OF NORFOLK
Courtney Thrift
Division of Communications and Public Information
401 Monticello Ave, 4th Floor
Norfolk, VA 23510
757.664.4055
Email: courtney.thrift@norfolk.gov
Application: http:/www.norfolk.gov/index.aspx?NID=3317
Sarah Parker
Assistant Director of Marketing
Department of Development
757.664.4338
Email: sarah.parker@norfolk.gov
Website: www.norfolkdevelopment.com
CITY OF PORTSMOUTH
Renee Spratley
Administrative Coordinator
801 Crawford Street
Portsmouth, VA 23704
757.393.8983
757.393.5475 fax
Email: spratleyR@portsmouthva.gov
Website: www.visitsportsva.com

LaVoris A. Pace
Director, Marketing and Communications
757.393.5143
757.393.5475 fax
Email: pacel@portsmouthva.gov
Website: www.visitsportsva.org
CITY OF POQUOSON
Dave Callis
Director
830 Poquoson Avenue
Poquoson, VA 23662
757.868.3583
757.868.3585
Email: david.callis@poquoson-va.gov
Website: www.poquoson-va.us
CITY OF SUFFOLK
Somer Jones
Recreation Coordinator
134 S. 6th Street
Suffolk, VA 23434
757.514.7273
Email: specialeventsapplications@suffolk.va.us
Website: http://www.suffolkva.us/
COLONIAL NATIONAL HISTORICAL PARK
Michael Byrd
Public Affairs Officer, NPS
Post Office Box 210
Yorktown, VA 23690
757.898.2422
757.272.3569
757.898.6346
Email: michael_byrd@nps.gov
Website: www.nps.gov/colo/
Local Liaison for Yorktown Nat'l. Park Service, Historic Jamestown & Yorktown Battlefield Public Affairs Officer Volunteer Coordinator
HAMPTON CONVENTION & VISITORS
Mary L. Fugere
Director of Media & Community Relations
1919 Commerce Drive, Suite 290
Hampton, VA 23666
757.728.5327
800.487.8778 toll free
Email: mary@hamptoncvb.com
Website: www.hamptoncvb.com
JAMES CITY COUNTY
Jody Puckett
Communications Director
101-C Mounts Bay Road
Williamsburg, VA 23187
757.253.6605
Email: jody.puckett@jamescitycountyva.gov
JAMESTOWN SETTLEMENT & YORKTOWN VICTORY CENTER
Bob Jeffrey
Communication Specialist
P.O. Box 1607
Williamsburg, VA 23187
757.253.4011
Email: robert.jeffrey@jyf.virginia.gov
Website: www.historyisfun.org
NEWPORT NEWS TOURISM DEVELOPMENT OFFICE
Becky Cutchins
Media Relations Manager
Fountain Plaza Two
700 Town Center Drive, Suite 320
Newport News, VA 23606
757.926.1429
Email: rcutchins@nngov.com
Website: www.newport-news.org
SMITHFIELD & ISLE OF WIGHT
Judy Winslow
Director of Tourism
319 Main Street
Smithfield, VA 23430
757.357.2476
Email: jwinslow@isleofwightus.net
Website: www.VisitSmithfieldIsleofWight.com
VIRGINIA BEACH
Robin Hart
Special Events and Film Office Liaison
2101 Parks Avenue, Suite 502
Virginia Beach, VA 23451
757.385.4800
Website: www.vbgov.com
Jamie Files
Special Events Coordinator
757.385.6638
757.422.3666 fax
Email: jrfiles@vbgov.com
Ashley Puvogel
Special Events and Film Office Liaison
757.385.6640
Email: apuvogel@vbgov.com
CITY OF WILLIAMSBURG
Lee Ann Hartmann
Communications Specialist
401 Lafayette Street
Williamsburg, VA 23185-3617
757.220.6197
757.220.6107 fax
Email: lhartman@williamsburgva.gov
Permission to film form: http://www.williamsburgva.gov/index.aspx?recordid=57&page=318
Central Virginia
Richmond has been named one of the "Top 10 cities to be an independent moviemaker." The Capitol City provides a strong infrastructure for film and has a long list of credits to its name. Within the Central Virginia region is historic Petersburg which provides authentic 18th Century buildings and is just 25 minutes from downtown Richmond. This region doubles as DC, New York, Revolutionary and Civil War locations no problemo. Explore our beautiful parks, historic homes or rolling farmlands.
Browse Reel Scout
Airports
Richmond International Airport
1 Richard E Byrd Terminal Dr
Richmond, VA 23250
Phone: (804) 226-3000
Chesterfield County Airport
7511 Airfield Dr
Richmond, VA 23237
Phone: (804) 768-7700
Liaisons
CHESTERFIELD COUNTY
Susan Pollard
Director of Public Affairs
P.O. Box 40
Chesterfield, VA 23832
804.748.1161
804.748.7609 fax
Email: pa@chesterfield.gov
Website: www.co.chesterfield.va.us
CITY OF HOPEWELL
Charles Dane
Assistant City Manager
300 North Main Street, Suite 216
Hopewell, VA 23860
804-541-2271
Email: cdane@hopewellva.gov
CITY OF PETERSBURG
Brian C. Little, Sr.
Director of Cultural Affairs, Arts & Tourism
19 Bollingbrook St.
Petersburg, VA 23803
804-733-2430
Email: blittle@petersburg-va.org
CITY OF RICHMOND
Allen Rothert
Film Liaison/Special Events Coordinator
900 E Broad St.
2nd Floor Office of the Mayor
Richmond, VA 23219
804-646-0524
804-337-7383 (cell)
Email: allen.rothert@richmondgov.com
DINWIDDIE COUNTY
Tammie J. Collins
Division Chief of Planning and Community Development
14016 Boydton Plank Road
P O Drawer 70
Dinwiddie, VA 23841
804.469.4500 x110
804.469.4503 fax
Email: tcollins@dinwiddieva.us
Brian Mancini
Director of Parks Recreation and Tourism
5850 R.B. Pamplin Drive
Sutherland, VA, 23885
804-862-8086
Email: bmancini@dinwiddieva.us

HANOVER COUNTY
Tom Harris
Public Information Officer
P.O. Box 470
7516 County Complex Road
Hanover, VA 23069
804.365.6402
804 365 6400
804.365.6234 fax
Email: htharris@co.hanover.va.us
Website: www.co.hanover.va.us
HENRICO COUNTY
Tamra McKinney
Public Relations and Media Services Director
P.O. Box 90775
Henrico, VA 23273
804.501.4257
804.501.5500 fax
Email: mck10@co.henrico.va.us
Website: www.co.henrico.va.us
POWHATAN
March Altman
Deputy County Administrator
3834 Old Buckingham Road
Suite A
Powhatan, VA 23139
804-598-5612
Email: maltman@powhatanva.gov
Website: http://www.powhatanva.gov/
TOWN OF ASHLAND
Joseph M. Topham, Jr.
Business Retention & Expansion Manager
P.O. Box 1600
101 Thompson Street
Ashland, VA 23005
804.798.1073
Email: jtopham@town.ashland.va.us
Website: http://www.town.ashland.va.us.
Chesapeake Bay
Rich with rural charm and picturesque waterfront, this is the birthplace of George Washington and the land of the Pamunkey and Mattaponi Native Americans.
Browse Reel Scout
Airports
Middle Peninsula Regional Airport
1000 Airport Rd
Shacklefords, VA 23156
(804) 785-9725
www.fly-fyj.com
Liaisons
GLOUCESTER COUNTY
Carol Steele
Director of Parks, Recreation & Tourism
6467 Main Street
Gloucester, VA 23061
804.693.1261
804.815.1663
804.693.0061 fax
Email: csteele@gloucesterva.info
MIDDLESEX COUNTY
Michelle Brown
Economic Development & Tourism Coordinator
County of Middlesex, Virginia
PO Box 428
Saluda, VA 23149
804.758.4330 (w)
804.654.1363 (c)
Email: m.brown@co.middlesex.va.us
Northern Virginia
Northern Virginia is next door to our nation's capital - Washington, D.C. - yet has kept its own character reminiscent of colonial times, rambling plantations, equestrian farms and cobblestoned streets leading to quaint taverns, chic shops and historical gems.
Browse Reel Scout
Airports
Washington Dulles International Airport
1 Saarinen Cir,
Dulles, VA 20166
www.flydulles.com
Ronald Reagan Washington National Airport
1 Aviation Circle
Washington, D.C. 20001
www.flyreagan.com
Liaisons
ALEXANDRIA
Ann Dorman
Film Permit Coordinator
703.626.1266
Email: film@visitalexva.com
Film Permit: http://www.visitalexandriava.com/media-pr/film-office/
$100 film permit fee
ARLINGTON
Courtney Cacatian
1100 N. Glebe Rd., Suite 1500
Arlington, VA 22201
703-228-0877
703-228-0806 fax
Email: ccacatian@arlingtonva.us
Film Permit: www.stayarlington.com/tourism-industry/film-application-information/
VISIT FAIRFAX-FAIRFAX COUNTY
Sue Porter
Director of Communications
3702 Pender Drive, Suite 420
Fairfax, VA 22030
703.752.9512
703.790.5097 fax
Email: sporter@fxva.com
Website: www.fxva.com
FAUQUIER COUNTY
Catherine Payne
Tourism Coordinator
35 Culpeper Street
Warrenton, VA 20186
540.422.8270
Email: catherine.payne@fauquiercounty.gov
Website: www.VisitFauquier.com
CITY OF FREDERICKSBURG
Julie Perry
Manager, Visitor Center
706 Caroline St.
Fredericksburg, VA 22401
540-373-1776
Email: japerry@fredericksburgva.gov
Website: http://www.visitfred.com
KING GEORGE COUNTY
Linwood Thomas
Director, Economic Development
10459 Courthouse Drive, Suite 200
King George, VA 22485
540-775-9181
Email: lthomas@co.kinggeorge.state.va.us
Website: http://www.yeskinggeorge.com/
VISIT LOUDOUN
Jackie Brown-Saunders
Vice President of Marketing
112-G South Street, SE
Leesburg, VA 20175
703.669.2009
Email: saunders@visitloudoun.org
Website: www.VisitLoudoun.org
CITY OF MANASSAS
Patty Prince
Communications Manager
9027 Center Street
Manassas, VA 20110
703.257.8456
Email: pprince@ci.manassas.va.us
Website: http://www.manassascity.org/
DISCOVER PRINCE WILLIAM & MANASSAS
Dan Cook
Director of Marketing & Communications
10611 Balls Ford Road, Suite 110
Manassas, VA 20109
571.482.7043
Email: dcook@discoverpwm.com
Website: http://discoverpwm.com/
SPOTSYLVANIA ECONOMIC DEVELOPMENT & TOURISM
Debbie Aylor
Tourism Manager
9019 Old Battlefield Blvd, Suite 310
Spotsylvania, VA 22553
540.507.7205
540.507.7207
Email: daylor@spotsylvania.va.us
Website: www.spotsylvania.org
STAFFORD COUNTY
Lisa Logan
Tourism Manager
1300 Courthouse Road
Stafford, VA 22554
540.645.1662
540.658.8681
Email: lmlogan@staffordcountyva.gov
Website: http://www.gostaffordva.com/
WINCHESTER & FREDERICK COUNTY
Justin Kerns
Executive Director
1400 South Pleasant Valley Road
Winchester, VA 22601
540.542.1326
877.871.1326
Email: director@visitwinchesterva.com
Website: www.visitwinchesterva.com
Eastern Shore
Accessible via the 17.5 mile Chesapeake Bay Bridge-Tunnel, The Shore stretches 70 miles and offers old railroad towns and intimate fishing villages.
Browse Reel Scout
Roanoke Valley
Covered bridges, abandoned quarries, lake houses, mountain houses, cottages and mountains all around…do not underestimate this up-and coming film hub.
Browse Reel Scout
Liaisons
ALLEGHANEY HIGHLANDS
Kara Asboth
Special Projects
110 Mall Road
Covington, Va 24426
540.962.2178
Email: kasboth@ahchamber.com
ALLEGHANY HIGHLANDS CHAMBER OF COMMERCE & TOURISM
Alleghany County, City of Covington, and Towns of Clifton Forge and Iron Gate
Teresa Hammond
Executive Director
110 Mall Road
Covington, VA 24426
540.962.2178
540.962.2179
Email: thammond@ahchamber.com
Website: www.visitalleghanyhighlands.com
BATH COUNTY
Mary Anne "Maggie" Anderson
Tourism and Economic Development
Warm Springs, VA 24484
540.839.7202
540.679.9374 cell
Email: tourbath@bathcountyva.org
BEDFORD COUNTY AND CITY
Michelle Crumpacker (Interim Liaison)
Administrative Manager
Bedford Welcome Center
540.587.5683
540.587.5983 fax
Tourism Director
816 Burks Hill Rd
Bedford, VA 24523
Email: mcrumpacker@bedfordcountyva.gov
BOTETOURT COUNTY OFFICE OF TOURISM
Lisa Moorman
Tourism Manager
16 East Main Street
Fincastle, VA 24090
540.473.1167
540.473.8605
Email: lmoorman@botetourt.org
Website: www.visitbotetourt.org
CITY OF LYNCHBURG
JoAnn Brown-Martin
Director of Tourism
2015 Memorial Avenue
Lynchburg, VA 24501
434.455.3800
Email: joann.martin@lynchburgva.gov
Website: www.lynchburgva.gov
www.visitlynchburg.org
CITY OF ROANOKE
Lisa Soltis
Economic Development Specialist
117 Church Avenue
Roanoke, VA 24011
540.853.1694
540.853.1213 fax
Email: lisa.soltis@roanokeva.gov
Website: www.roanokeva.gov
COUNTY OF FRANKLIN
David Rotenizer
Tourism Development Manager
1255 Franklin Street
Suite 112
Rocky Mount, VA 24151
540.483.3040
Email: david.rotenizer@franklincountyva.gov
Website: http://www.visitfranklincountyva.org
ECONOMIC DEVELOPMENT FOR ROANOKE COUNTY
Jill Loope
Director
P.O. Box 29800
Roanoke, VA 24018
540.772.2069
540.772.2030 fax
Email: jloope@roanokecountyva.gov
FLOYD COUNTY
Ms. Pat Sharkey
Director
Floyd County Tourism
201 E. Main St.
The Village Green Suite 7
Floyd, VA 24091
540.239.8509
Email: tourismdirector@floydcova.org
Website: www.VisitFloyd.org
GILES COUNTY
Cora Gnegy
Tourism Marketing Director
Giles County Administration
203 North Main Street
Pearisburg, VA 24134
540.921.2079
Email: cgnegy@gilescounty.org
Website: GilesCounty.org
LEXINGTON & ROCKBRIDGE
Jean Clark
Director of Tourism
106 East Washington Street
Lexington, VA 24450
540.463.3777
Email: director@lexingtonvirginia.com
Website: www.lexingtonvirginia.com
MONTGOMERY COUNTY
Lisa Bleakley, MTA, CMP
Executive Director of Tourism
755 Roanoke Street, STE 2E
Christiansburg, VA 24073
540.394.2120 Ext. 4225
Email: bleakleyts@montgomerycountyva.gov
Website: www.visitmontva.com
ROANOKE VALLEY
Bootie Bell Chewning
Regional Roanoke Liaison
888 Colbourne Avenue
Roanoke, VA 24179
540.520.7541
Email: boo_tee@msn.com
Shenandoah Valley
Just outside the hub-bub of Northern Virginia, this is quintessential Virginia country. Classic university campuses and vintage towns, the Shenandoah Valley might be the most picture-perfect slice of Americana you can find in North America.
Browse Reel Scout
Airports
Charlottesville-Albemarle Airport
100 Bowen Loop #200
Charlottesville, VA 22911
www.gocho.com
Shenandoah Valley Regional Airport
77 Aviation Circle
Weyers Cave, VA 24486
www.flyshd.com
Liaisons
ALBEMARLE COUNTY
Rebecca Ragsdale
Senior Permit Planner
401 McIntire Road
Charlottesville, Virginia 22902
434.296.5832
Email: rragsdale@albemarle.org
Website: https://www.albemarle.org/
CITY OF CHARLOTTESVILLE
Joe Rice
Communications Specialist
605 E. Main St.
Charlottesville, Virginia 22902
434.409.8226
Email: ricej@charlottesville.org
Brigitte Bélanger-Warner
Director of Sales & Marketing
434.970.3632
Email: warnerb@charlottesville.org
Website: http://www.visitcharlottesville.org/
CITY OF HARRISONBURG
Brenda Black
Tourism Manager
212 S. Main Street
Harrisonburg, VA 22801
540.432.8940
Email: brendab@harrisonburgva.gov
Website: www.harrisonburgtourism.com
CITY OF STAUNTON
Sheryl Wagner
Director of Tourism
116 W. Beverly Street
Staunton, VA 24402
540.332.3865
540.448.3576
540.851.4005 fax
Email: WagnerSS@ci.staunton.va.us
Website: www.VisitStaunton.com
CULPEPER COUNTY
Paige Read
Director of Economic Development & Tourism
111 S. Commerce Street
Culpeper, VA 22701
540.727.0611
Email: pread@culpeperva.gov
Website: www.visitculpeperva.com
GREENE COUNTY
Tony Williams
Director
8315 Seminole Trail, Suite 2
Ruckersville, VA 22968
434.985.6663
434.985.3414
434.566.4679
Email: tony@gatewaytocharlottesville.com
Website: www.gatewaytocharlottesville.com
HIGHLAND COUNTY
Roberta Lambert
County Administrator
P.O. Box 130
Monterey, VA 24465
540.468.2347
540.468.3447 fax
Email: hcboard@htcnet.org
Website: www.highlandcova.org
ORANGE COUNTY TOURISM
Leigh Mawyer
Manager of Tourism
146 Madison Road, Suite 205
Orange, VA 22960
540.661.5328
Email: lmawyer@orangecountyva.gov
Website: www.visitorangevirginia.com
ORANGE COUNTY ECONOMIC DEVELOPMENT
Tommy Miller
Director of Economic Development
112 West Main Street
Orange, VA 22960
540.272.4167
540.672.1238
Email: tmiller@orangecountyva.gov
RAPPAHANNOCK COUNTY
John McCarthy
Administrator
Washington, VA 22747
540.675.5330
703.403.7172 cell
540.675.5331 fax
Email: jwmccarthy@rappahannockcountyva.com
Website: www.visitrappahannockva.com
Southern Virginia
Former tobacco farms, authentic Southern Virginia charm and lively American Main Street communities. Go back in time and explore South Central Virginia's stunning scenic byways and classic country roads.
Browse Reel Scout
Airports
Allen C. Perkinson Blackstone Army Airfield
Dominy Corner Road
Blackstone, VA 23824
434.292.2193
Farmville Regional Airport
130 Wedgewood Drive
Farmville, VA 23901
434.391.6111
Mecklenburg-Brunswick Regional Airport
Brodnax, VA 23920
434.729.1002
Not sure where to start? Try one of these:
Got a prime filming spot?
Complete the form and once reviewed and approved, your photos will be added to our library, and will be available for viewing by location professionals worldwide seeking the perfect locations for their projects.
submit a location
Think you need a permit?
The Virginia Film Office does not issue film permits; however, we're happy to help determine if you need one and who to talk to. Contact Emily, VFO Locations Manager, with the particulars of your shoot.
Email Locations